Trudy Davies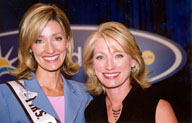 Trudy Davies is owner and co-founder of The Image Academy. Trudy has been a certified image consultant for eight years. During this time, she has provided personal consulting and training to numerous individuals and organizations. Trudy is an experienced personal coach for women of all ages. She speaks at businesses, schools, churches and civic organizations. She was featured on "Good News A.M." and was the wardrobe and fashion consultant for BIG DREAM MINISTRIES, an international film project.

In August of 2001, Trudy won the title of America's Mrs. of the Year as Georgia's representative. Trudys' platform was building self-esteem in women, realizing that most women struggle with their self-image which directly affects how they view themselves as human beings.
Shelia Garnette Frey

Shelia Garnette Frey is Vice-President of The Image Academy. She has a degree in Business Administration and extensive experience in the retail cosmetic industry. As a certified image consultant, she will help you discover your personal style and give instruction on creating your individual look to enhance your confidence and appearance.